Watching DJ Funkyb mix it in the house is like being fed adrenaline. In total the word "awesomeness" is overridden when it comes to seeing her perform. To Funkyb life is all about being a DJ and funk. Entertainment is all about the crown and being a DJ is no different. Funkyb gets the crowd moving and for that moment in time everyone forgets their "normal life".
A love of music is a must to being a DJ, but look closely and is goes way beyond. It is as though Funkyb sends out the music from within her. A DJ transforms music into something that is alive. There is no mistaking that Funkyb is passionate about what she does.
When we asked Funkyb about being a DJ this is what she had to say:
"I started DJing in 2000 in Cape Town, where I lived for 4 years. A friend, who's a DJ, taught me to play. My first gig I got was playing at "long beach" after a week of only ever having touched a set of turntables! I've been booked for gig's and residencies every weekend ever since.
I am into underground house music especially Jackin and Elektro house with seriously sick baselines.
I've played overseas in Sri Lanka at "the Library" in Colombo during the Boxing Day tsunami! I've also gigged at "la dee da's" in Namibia and "Pinto's place" in Mozambique.
I am currently producing some of my own beats and hopefully will be able to launch some of that music this year! I used to play the bass guitar, keyboards and harmonica growing up, in a musical family, but turned to the decks instead due to my passion for house music.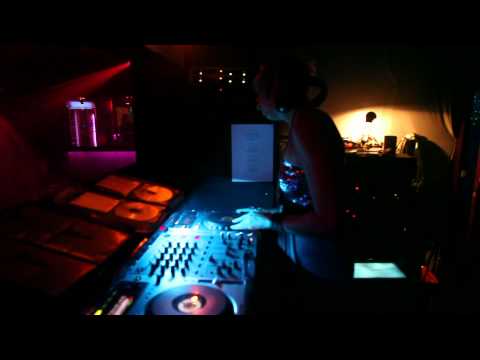 What I love most about DJing is that moment when you drop in that new, crazy track, that no one else is playing, and the dance-floor goes insane!!!
I definitely have a day job, as you can't survive these days on this alone! I DJ'ed full time for 7 years but then decided it was time to start thinking about other avenues for money. I am a distributor for professional hair-care products that is sold to salons. I really enjoy that too!
The hours can be long when you're just starting out as a DJ as you often get given really early or late time slots and you also tend to hang around a bit more to party. I'm lucky at the moment as I guess I've been at it for a while now so get given the main sets usually between 11pm and 2am. This may still seem pretty late to most people but I'm used to it.
When starting out you should go to the clubs that you want to get gigs at and hang around and make friends with the right people! Thereafter you're on your own so you better not mess it up! No seriously it helps to be fully dedicated and do/play whatever and wherever you have to get in to the scene once you're getting bookings it's important to not let your ego get the best of you where you love yourself so much and forget to play for the crowd. Once you are more in demand you should look at ways to always stay fresh."
You can join FunkyB on facebook www.facebook.com/djfunkyb where she will gladly help you find out more about being a DJ.
This is a short article on being a DJ and not financial or career advice.
Reference for:  In The House with Funkyb : Being A DJ